🍞 Sourdough and Venture Capital: An Interview with Lauren Baynes
I interviewed Lauren Baynes, Vice President of Portfolio Management and Selection at 43North (13 min read)
Homescreens is a weekly newsletter where I interview founders and creators about what's on their phone. Each week I feature a new guest in tech and we reflect on their favorite apps, productivity hacks, and unique quirks. If you're reading this and are not subscribed yet, consider joining this growing community.
---
Lauren Baynes knows startups. She's tasked with attracting and retaining high-growth startups in Buffalo, NY through 43North, a startup accelerator and business plan competition that is part of New York State's Buffalo Billion initiative. Launched in 2014, 43North is the most ambitious startup competition ever unveiled—designed to generate new business ventures, support early-stage startups, and attract additional venture funding in the region.
In a typical year—one that's not crippled due to a pandemic—you'll find Lauren traveling between New York City, Silicon Valley, and other startup hotspots. It's important for her to stay connected to investors across the country for deal flow and recruitment. In addition to the selection of new portfolio companies, Lauren also ensures they're set up for success once they arrive in Buffalo—making introductions to local mentors and assisting with business development. To date, 43North's 51 portfolio companies have created over 700 local jobs and went on to raise over $472M in venture capital—something unheard of in this region a decade ago.
When Lauren's not working, she's an avid reader, and an incredible baker (stay-tuned sourdough enthusiasts). Her phone strikes a perfect balance between for-fun reading and entertainment, and the tools she needs to stay current in the fast-paced tech industry. Let's take a look at what's on her home screen.
---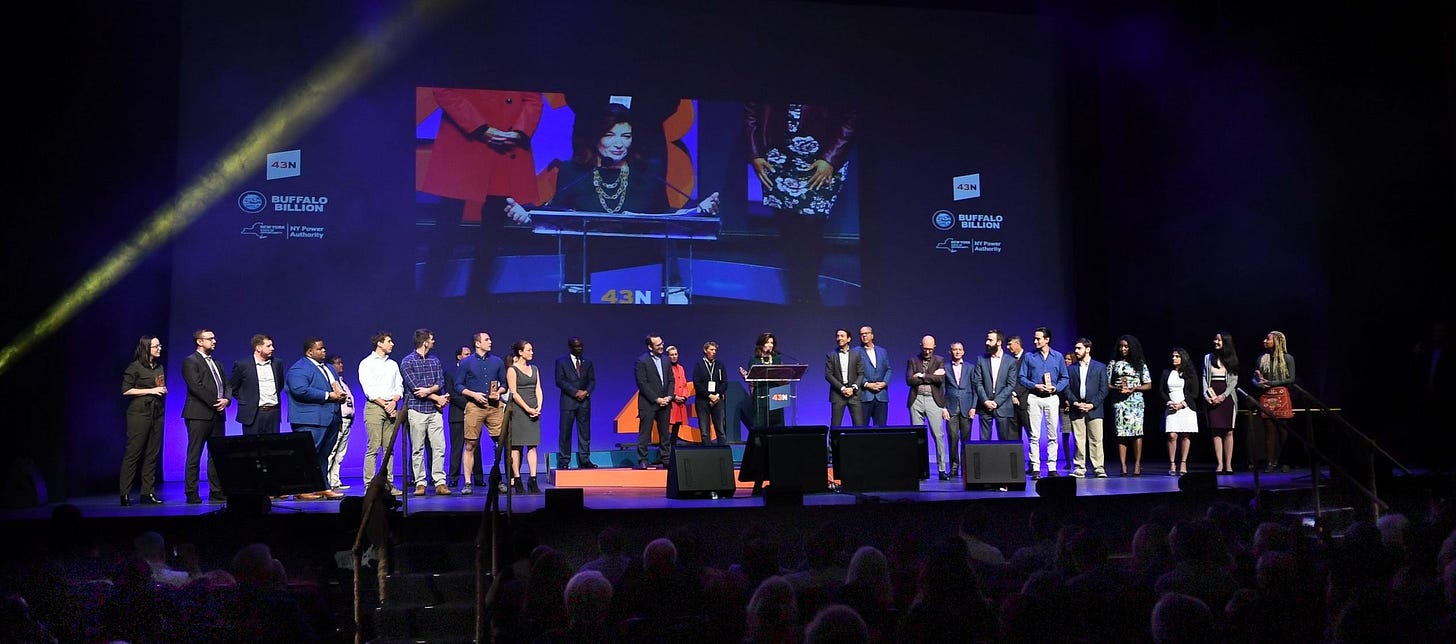 Lauren, currently you serve as the VP of Portfolio Selection for 43North and previously you worked for Senator Tim Kennedy—tell me about that journey?
I started my career in government; my first job out of college was working for Congressman Higgins in Buffalo, and I thought I was going to go to DC and work on The Hill, but I got convinced to stay local and help out the community.
I was doing casework, dealing with people going through difficult situations, and helping them navigate through government. Then I met Senator Kennedy, who was a county legislator at the time, and he was just this young guy deciding to run for Senate against a 36-year incumbent, and I loved it. I loved the story; it's kind of like a startup, right? There's a lot of parallels.
At the time, that was before marriage equality was passed, he [Senator Kennedy] was pro-marriage equality, and he was running against two candidates that were against marriage equality. So I volunteered every waking hour I had to help him win the Senate race. He ended up winning, so I ended up joining his team. I worked for him for almost seven years, eventually becoming his chief of staff, and during that time, I did a lot of work helping businesses.
At that time, 43North was looking for someone to lead their portfolio management— helping companies that we moved to Buffalo integrate with the business community. There's a team that takes them out to dinner, and to yoga classes, and all that fun stuff, but they needed someone to lead the business side of things—so when they get here, we're really adding value.
Since then, I've also taken on the selection process as well, leading an amazing team of volunteers to help us sort through the 500-or-so applications we get every year, and narrow that down to eventually the ten that you see on stage in a typical year.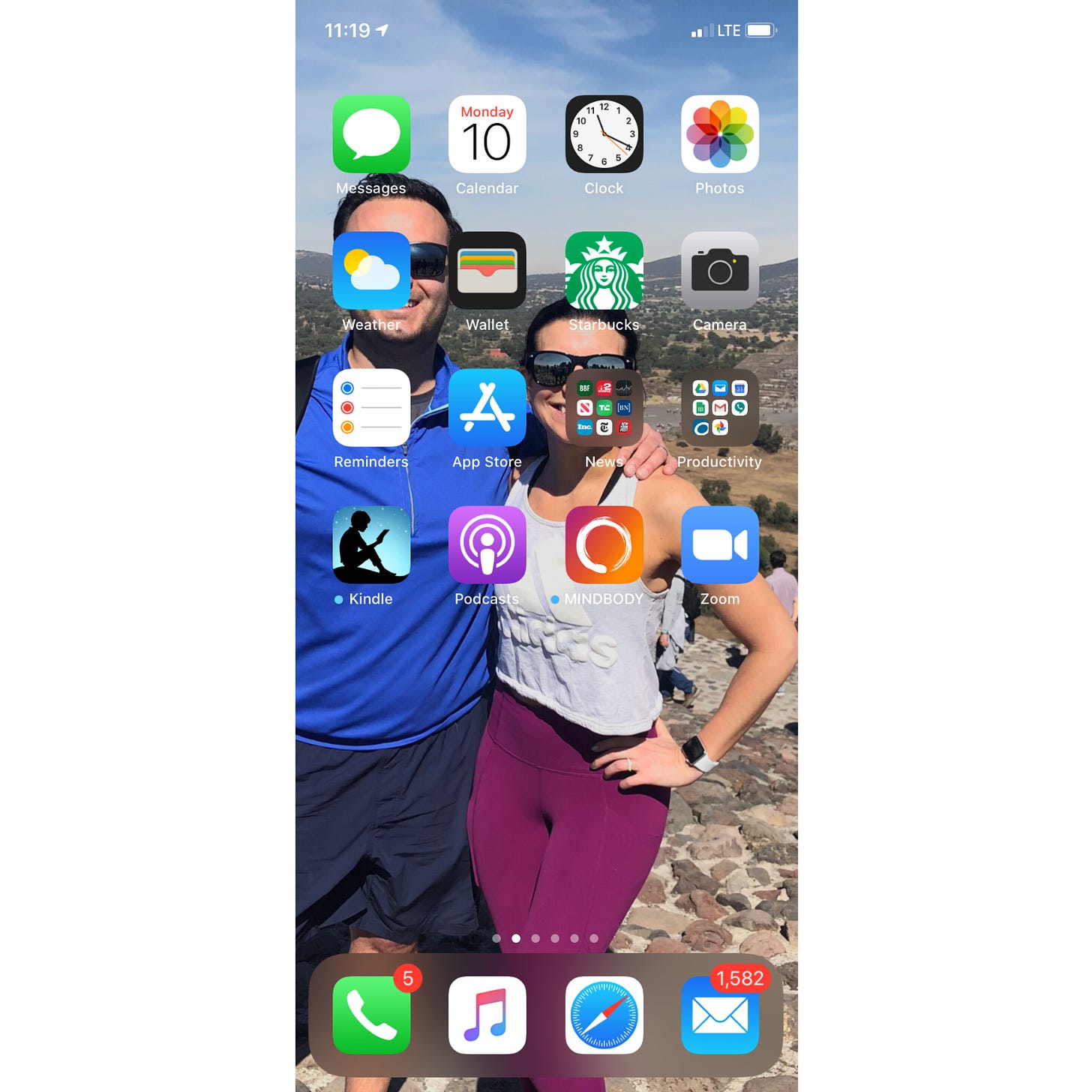 The work you guys are doing is great. Now diving into your phone, give me an idea of how you use your phone in your day-to-day?
Unlike Jack Greco, I have a lot of apps [read my previous interview with Jack here]. I would say on the front screen are the ones I use for work or just need them quickly or often, which is why you'll see Starbucks there, and MindBody so I can book my workouts. I listen to a lot of podcasts, especially if I'm going for a walk, and I read every night on my phone, so Kindle.
I saw the Kindle app and was going to ask you if you actually read books on your
phone?
I'm a huge reader. I'm constantly reading on my phone, which is so bad for your eyes, but I like it that way—I don't want to have a stack of books by my bed—and I like to read multiple books per day so I switch back and forth.
What are your favorite books that you've read recently?
I'm very weird. I do read startup books, but what I like to do right before bed is read something completely separate from what I do day-to-day; right now I'm reading The Real North Korea, and I'm also reading a lot of books on bread because I'm one of those people that got really deep into sourdough during [lockdown].
That's quite the mix of reading material, the whole sourdough thing became such a meme throughout the pandemic— that's great.
Also, I saw you have a whole folder dedicated to the news. I see local favorites like Buffalo Business First, industry news like TechCrunch, what's your routine? Wake up in the morning and open the Buffalo News app?
Yeah, so I'm a news junkie and had to be, working in politics and government. Buffalo Business First is definitely a daily check, Buffalo News would be the first one I open in the morning to see what's going on, and then Inc. and TechCrunch for what's going on in the industry. It's important to know macro-level trends, companies that are doing well, and why, especially on the selection side—to understand what's happening in different industries so when companies pitch me I have an idea of the overall environment they're working in.
Are you a Crunchbase subscriber?
We don't subscribe, we use PitchBook, which covers the same things. I read Crunchbase News, but PitchBook is what we use in terms of targeting companies and understanding how much people are raising and when, and who's raising.
Looking at macro-level trends, what's most exciting for you right now?
Well anything in healthcare, right? I think anyone who's got the technology to disinfect. We [43North] have a company called CleanSlate UV, and they use UV light to disinfect phones, so they've seen tremendous growth in interest because of Coronavirus. Another company in our portfolio, Circuit Clinical, helps manage the clinical trial process for both clinicians and pharma.
Companies like that can really add value through the pandemic are obviously exciting, but then there are all these ancillary technology businesses that are doing well. Companies that help gyms operate remotely, or restaurants connecting with their customers for delivery and takeout.
Those are the things that are most exciting to me, and I would assume at a macro-level to investors—businesses that can do well in this type of environment. I've read that Andreessen [Horowitz] is no different, a lot of investors are thinking about when this is over, you can't just make investment decisions based on what's going on today—you have to be forward-thinking.
Right, exactly. Even after we get through the bulk of the pandemic, nothing's going to return to "normal".
You look at a company like Misfits Market that just raised a monster round, and as you know, forever people are going to be getting their groceries in a different way because of this—and so investors are smart and that's why you'll see some big fundraising in companies like that. Behaviors change, and that's why technology is so important because we can really capitalize on those changing behaviors.
You mentioned that you're big into podcasts as well, what are some of your favorites?
I like Inc. Uncensored; it's great technology news; I like Skimm This which is great just national and international news, and I think they started as an email newsletter. Skimm This is meant for people that don't want to consume news from 100 different sources, you can just "skim this" and you're good to go. Also, I'm a big Bravo fan so I also listen to Juicy Scoop.
Favorite Housewives?
Probably Beverly Hills, but they're all pretty good.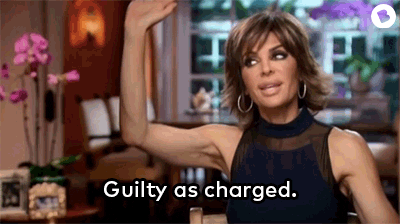 Moving on to the Mindbody app, have you done any virtual classes?
I was doing YouTube at the beginning of quarantine, just typing in "pilates" and working out, because at the beginning my hours were longer than ever—so many of our companies were just trying to wrap their head around how to operate in this environment. So there were long days like 7 am to 7 pm, I would just try to get some physical activity in because you'd be sitting all day. I'd sit at my kitchen counter and realize I haven't moved in like 12 hours. My husband and I live in a condo building downtown and we're on the fifth floor of a ten-story building, so we started doing the stairs—we would run the 10 stories 10 times—that was a fun workout.
Alright, we have the Starbucks app, what's your go-to drink?
Just plain iced-coffee, black. Not even cold brew, just old fashioned iced-coffee. I think [the app] is really well done, especially since they're not a software business, they're a coffee business, but they execute the technology really well.
Tell me something that you do on your phone that might be considered different.
There are a couple of things that I think are interesting. I download every app for companies that we do due-diligence on, so that's usually about 50 companies a year; if they have an app, I'm downloading it, and sometimes I'm keeping them. So every now-and-then I notice there's a weird app on my phone that I loaded. The best is when I really want to use it, then that means the company is on to something—we don't invest a lot in consumer apps—it's not our bread and butter. But, there are a few that have gone through our program. There's one app I've been playing with that's from a local founder, it's called Agapé, are you familiar?
Yeah, I forgot where I stumbled upon it, I know it's in beta right now. Are you using it? How do you like it?
It's really cute, really sweet. My husband and I are together almost 24/7 so I don't think we're the target, it's probably better for people that aren't living together yet and might need more connectivity, but it does spark interesting conversations. They did a beautiful job with the creation and the UX and UI.
I also have Magnus Cards, which is from a company called Magnus Mode. Now I don't use the app, it's not meant for me, but I like to see all the updates our companies are going through. Magnus Mode is a company that helps people with autism or special needs complete daily activities, so things that might seem simple to you like going to order food at a restaurant, can be really intimidating for people with autism. So, they have this really great app that walks you through the process in a way that really speaks to them.
I love that concept, I remember her pitch that year.
Yeah, it's great. So in terms of productivity, like Jack [Greco] I use Calendly. I live by Calendly, I think it's the best way to schedule things. I have 51 companies that are in our portfolio, and I want to be as accessible as possible to them. They're incredibly busy people, so just sending a link is so much easier than trying to go back and forth on calendars. It's definitely one of my favorite tools for productivity.
I'm also using this thing called Content Snare, I'm probably one of the only users of it—I found it! [laughs] We have monthly investor reports that our companies send into us to go over all of their general business metrics, and we look at their financials. I couldn't find a great tool to collect all of that, that's reasonably priced. It's almost like a survey—but a trumped-up survey—where I'm also getting files, collecting information, and tracking that information. There are a lot of tools out there for investors to manage their portfolios, but most are pretty expensive, so this one I like because it's light and easy to use.
Any apps that we haven't talked about that you want to share?
Yeah, so when I used to travel a lot, I like this app called Culture Trip which is cool. You put in where you are, and there are little articles about things to do there. So if you're somewhere for work and you want to figure out a coffee shop that's great to work from, it's great. I think most of the articles are written by locals, so it gives a much better kind of picture than using TripAdvisor. It's more curated. I've used it for work travel and fun travel.
Also, I use the Slack app every day, that should be on this screen but it's not. I'm in three different Slack channels very regularly: The Western New York Startup Community, then we have a 43North Winners Slack channel where all the portfolio companies are, then we have staff.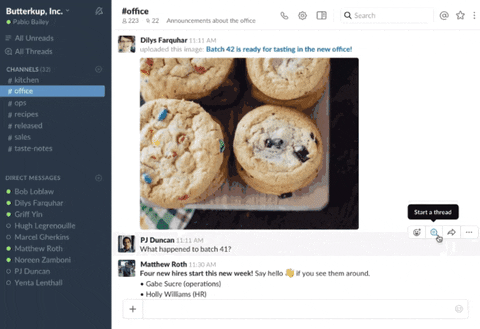 The winners one is nice because they can talk to each other and have their own kind of network building. They can request assistance if they don't want to email us, they can just Slack us. Some people want to text me, some people Slack me, some people email—I'm good with any of those modes of communication.
Very cool. This has been great, I had a ton of fun! We'll have to stay in touch.
Absolutely! I love this idea. Have a good one!
---
Endnote
Thanks for reading my interview with Lauren. Find her on LinkedIn here, and learn more about 43North here. Also, for you sourdough enthusiasts, make sure to check out her incredible Instagram account @breadbybaynes here. Just look at this carb-goodness from her page: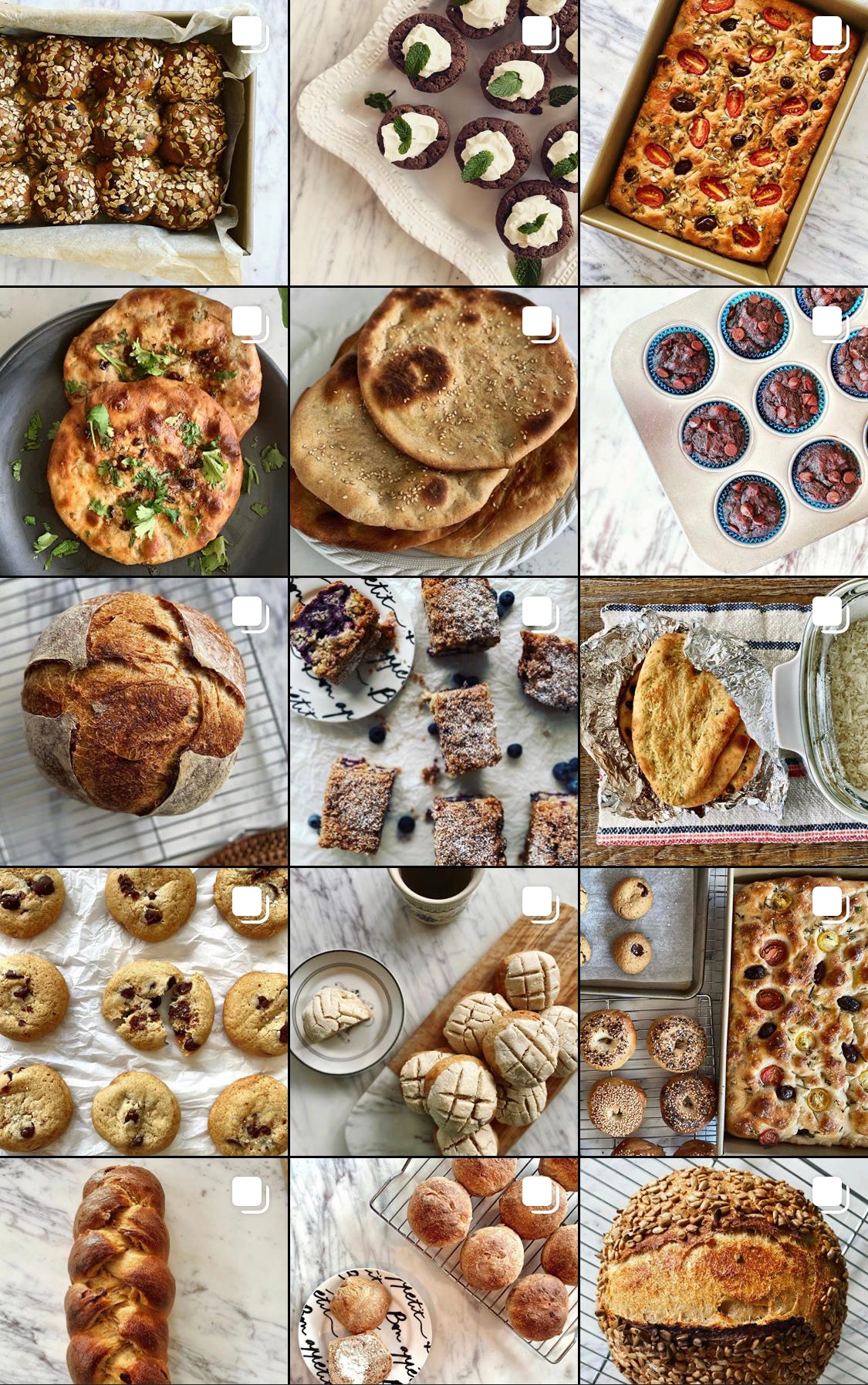 ---
📱 App and Media Recap